Shabbat, 29th August 2020 / 9th Ellul 5780
Ki Teitzei / Pirkei-Avot: Chapter 1 and 2
Dear Member,
Please see below our weekly e-newsletter.
Can all Members attending services at the Synagogue please wear their own face coverings. This does not apply to those who have a medical reason to not do so. Face coverings must cover the mouth and nose.
Shacharit: Sunday & Public Holidays – 8.30am in Shul and on Zoom.
Shacharit: Monday, Tuesday, Wednesday, Thursday and Friday - 7am in Shul and on Zoom.
Mincha & Ma'ariv: Monday, Tuesday, Wednesday & Thursday in Shul and on Zoom at

7.30pm

.
Please note the time changes from Tuesday morning 1/9/20
People attending the weekday services should not be arriving more than 20 minutes before the start of the service.
Shabbat, 12th September, Shacharit at 10:00am.
There is no Mincha or Ma'ariv on Shabbat.
Mincha/Ma'ariv on Thursday 10th Sep at 7.30pm in Shul & via Zoom.
Shacharit on Friday 11th Sep at 7am in Shul & via Zoom.
Bookings will close on Thursday, 3rd September.
In the following weeks please see the website for future times of services.
We appreciate that due to the lock-down those of you who have had a Yahrzeit and especially those who have suffered a bereavement have not had the opportunity of saying Kaddish.
For Weekday and Shabbat services; members with internet access should be booking in on-line via the United Synagogue Website using the following link: https://myus.theus.org.uk/events. select Cranbrook United Synagogue and tick Prayer Services.
Please contact the Shul office on 020 8629 2780 to book in for the services you wish to attend.
Please see e-mails last week about services for High Holy Days 5781.
This week's Cranbrook News is kindly sponsored by the Abrahams and Chessis families to celebrate Aaron's 4th Birthday.
Shabbat Shalom,
Cranbrook US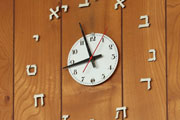 Shabbat Times - Ki Teitzei
Candle Lighting at 7.40pm
Latest time to light candles is at 7.42pm
Shacharit - 10.00am
Shabbat Ends - 8.43pm
Candle lighting and Shabbat Begins next week
(Ki Tavo) is at 7.26pm.
Entrance & Exit to the Synagogue on Shabbat
MEN TO ENTER THROUGH THE FRONT DOORS.
PROCEED STRAIGHT TO SEAT WITHOUT STOPPING. NO GREETING PEOPLE IN FOYER
LADIES TO ENTER THROUGH SIDE DOORS AND GO UPSTAIRS TO SEATS
COATS TO REMAIN WITH YOU AT ALL TIMES. CLOAKROOMS ARE NOT IN USE
LADIES TO EXIT USING THE MAIN STAIRCASE, KEEPING LEFT AT ALL TIMES AND PROCEED SLOWLY DOWN TO FRONT FORECOURT
PLEASE OBSERVE THE 2 METRES SOCIAL DISTANCING RULE AT ALL TIMES
Please remember the Guidelines are there for your protection and safety.
News and Views
Each year at this time of year, we have the month of Elul, the month which precedes the High Holy Days. The word Elul is an acronym for ANI LEDODI VEDODI LI. I am to my beloved and my beloved is to me. It is a time of special closeness between us and G-d, a moment when we have the opportunity to experience the love affair that exists between G-d and the Jewish people.
To emphasise the extent of this love affair that is going on, we read Psalm 27 right throughout this month and into the High Holy Days. David says: ACHAS SHOALTI ME'EIS HASHEM -There is only one thing that I need in my life, and that is to be in the presence of G-d. If David has this connection to G-d all his other needs will be taken care of. All he wants is to have this deep connection - SHIVTI B'VEIS HASHEM - let me stay in the house of G-d says David.
Why do we need such an intense relationship? There is a concept AHAVA MEKALKELET ET HASHURA - love breaks down all the boundaries - it breaks logic. Logic dictates that what we have done during the year should be enough to break down our relationship with G-d. However if love is involved, G-d can forget our flaws, and is able to focus on our relationship. If there is a committed relationship between partners, both parties are able to forgive flaws in order to maintain focus on the bigger picture which is what they have together.
We see this in practice when the Jewish people sinned by making a Golden Calf. As great a sin as it was, the eternality of the relationship between the Almighty and his people is more important than any sin. When there is true sincerity, G-d can see us where we stand now, and not on what we have done in the past. This is potential that lies dormant in these very special days.
We blow the shofar - we are told to wake up from our dreams and recognise that we are in the midst of the most romantic and intimate of relationships. We need G-d, and G-d needs us to spread his ideals and morals through to all of humanity. It is a call to arms, to remember who we are, remind us of the relationship that we have, and the responsibility that it brings to be a light to all the nations.
I wish you all a good and safe Shabbos
Rabbi Steven, Siobhan, Maya and Talia.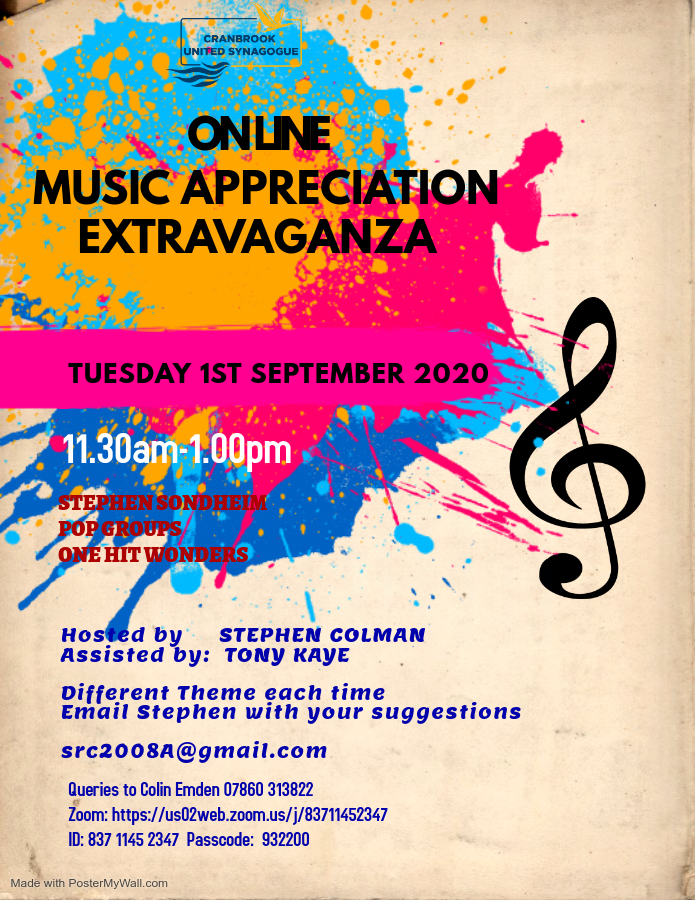 This week's theme is The Brill Building
Meeting ID: 837 1145 2347 / Password: 932200
From 15th September we will be changing the time to 8pm to 9.30pm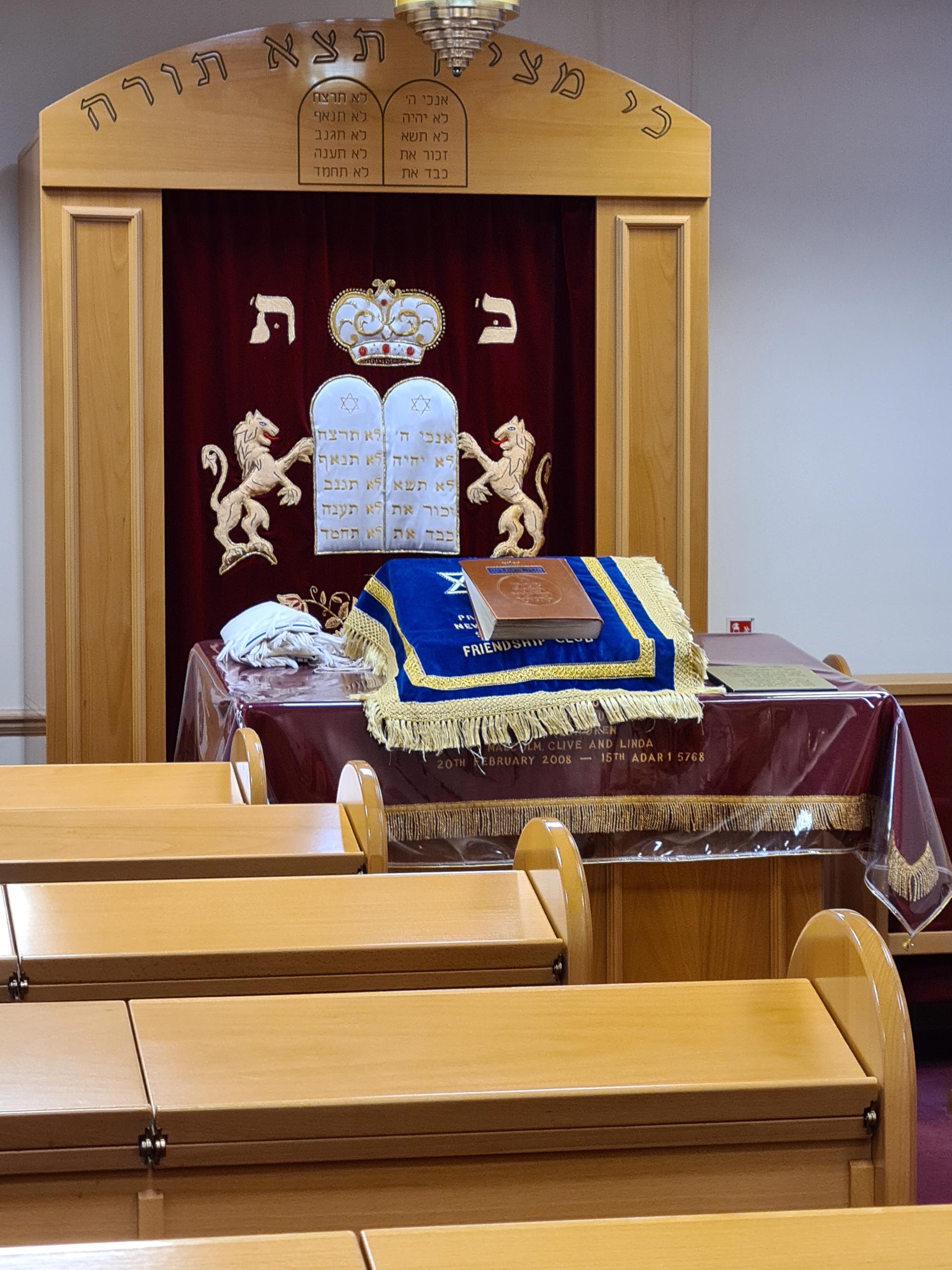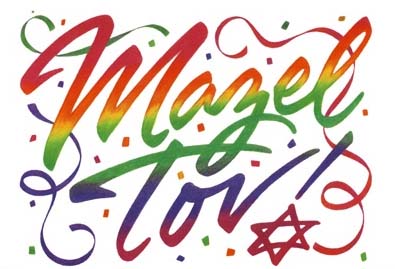 Jennifer & Clive Schaller (10th Anniversary),
Rita & Gerald Weiland (Sapphire Anniversary.),
Beverley & Michael Myers (Golden Anniversary),
Mandy & Malcolm Perez (Pearl Anniversary),
Sandra & Ronald Young (Diamond Anniversary),
Helen & Jack Selner (Blue Sapphire Anniversary).
Raymond Cohen, David Greenberg,
Dorothea Jacobs, Estella Nathan, Rita Rogers, Irene Rosenberg, Herman Rothman, Vivien Vant & Audree Wershof on their respective birthdays.
If you would like to mark a birthday or Simcha, or want to commemorate a Yahrzeit, this can be done by sponsoring Cranbrook News. In the forthcoming weeks, there are many dates that are available. The cost of sponsoring Cranbrook News is £15.
Sponsorship is available for the on-line version of Cranbrook News on the following dates: September 26th, October 3rd, 10th, 17th, 24th and 31st.
To book any of these dates please call the synagogue office on: 020-8629 2780 or e-mail admin@cranbrooksynagogue.org.uk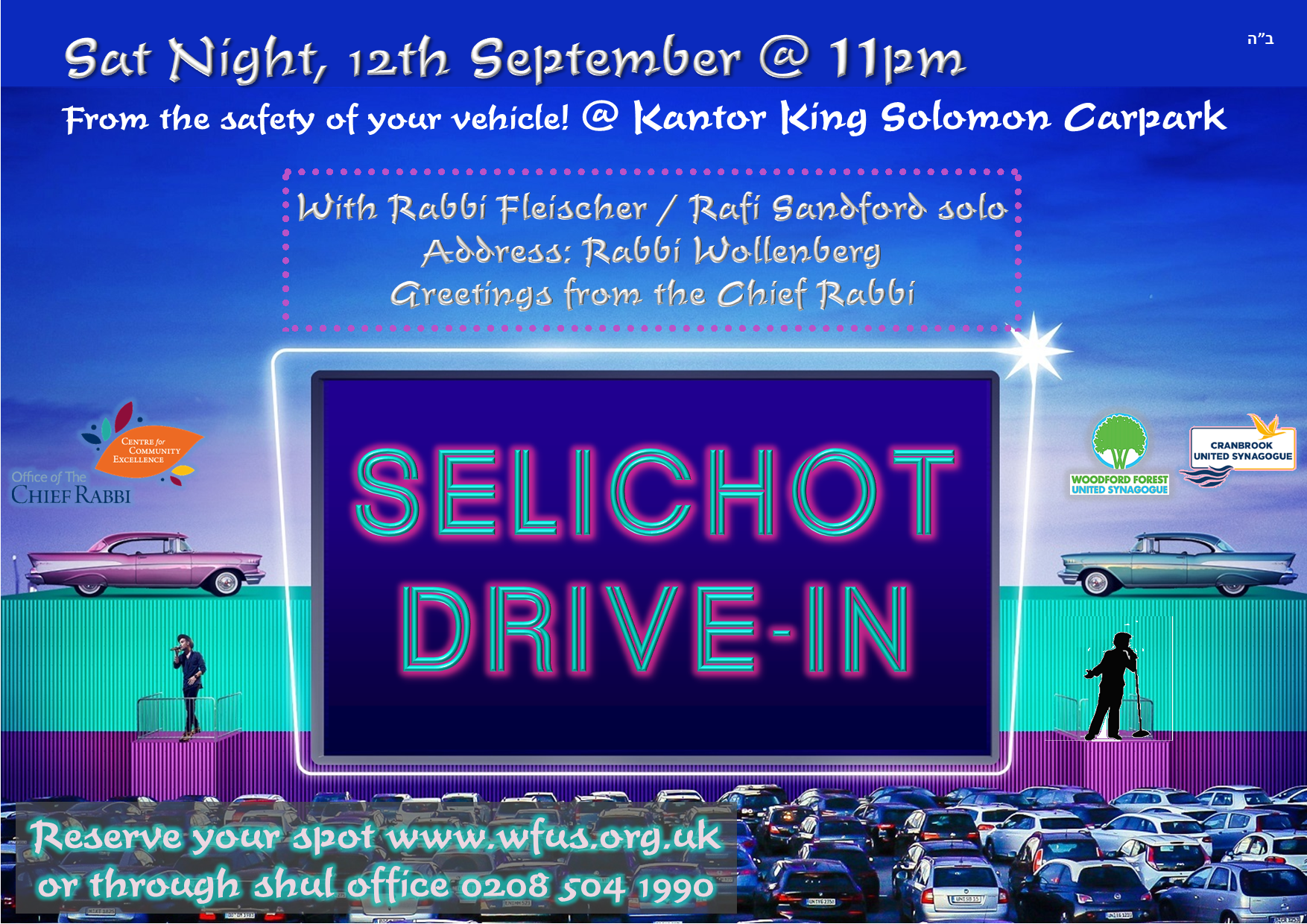 Condolences to:
The family of Dr Morris Schwartz

The 200 Club
The 200 Club aims to raise funds for building and maintaining the Shul, but has extended its function to help with various events that need organising.

For £5 a month (for at least twelve months) you are entered into a monthly draw for one prize of £250, and a second prize of £100. There is no limit to the number of times you can win.
To join please fill out the application form by clicking here.
We wish Long Life to everyone who is observing a Yahrzeit this week:
Arnold Abrahams, Martin Altman, Irene Barry, Susan Bass,
Alan Benson, Betty Bernard, Michele Biller, Gillian Binder,
Lilian Black, Gerald Braman, Susan Brattman, Maureen Bresh,
Naomi Broder, Harvey Coulton, Leslie Davis, Joy Debenham-Burton,
Kitty Dessau, Anthony Deutsch, Leslie Eriera, Gertrude Fagelson,
Muriel Franklyn, Brenda Freeder, Ezekiel Gillis, Julian Gold,
Sheila Graham, Hilary Green, Stephen Green, Julie Holman,
Claire Hutchinson, Angela Kalmanson, Hilary Krisman, Allison Krist,
Lily Landau, Elaine Lawson, Harry Lefcovitch, David Leonard,
Pauline Lester, Marilyn Lester, Linda Levene, Alma Levene,
Anthony Levy, Shirley Levy, Laura Lewis, Mervyn Lyndon,
Barry Mandel, Debra Mandel, Sara Mandel, Stuart Mandel,
Harold Marco, Diana Molava, Karen Molava, Paula Molava,
Anthony Press, David Rappaport, Neil Sapler, Alice Senk,
Doris Sheril, Gabriel Shine, Monty Shoben, Martin Silver,
Betty Spencer, Stuart Stirling, Harvey Tibber, Michael Trainis,
Helen Van Loen, Annie Wallen, Rita Wiseman and Ruth Wolfe.
Shul Office Opening Hours
As the Shul office is not open currently please call Estelle on 020 8629 2780 or Michelle on 020 8629 2783.
Rabbi Dansky is available out of hours. You can contact him directly on his mobile 07780 236697 or by calling the Shul office and selecting option 3.
If you no longer wish to receive community information from
Cranbrook United Synagogue, please unsubscribe here