29th May 2021 / 18th Sivan 5781 / Beha'alotcha
Pirkei Avot Chapter 2
Dear Member,
Please see below for our weekly e-newsletter.
Booking is now open for Kabbalat Shabbat on Friday, 4th June at 7.15pm and for Shabbat on 5th June at 10am.
Bookings will close at 6pm on Wednesday, 2nd June.
We are open for Shacharit services, Monday 31st 8.15 am and Thursday 3rd at 7.15am, Tuesday, Wednesday and Friday at 7.30am, Sunday and Bank Holidays at 8.15am, booking is now open.
We are open for Mincha and Ma'ariv services on Monday to Thursday at 7.30pm.
To book your place please e-mail or call Robin on 07956 617669.
Bookings will close at 6pm on Thursday, 3rd June.
The Shul office will remain open for phone calls only. Please do not visit the Shul office for any reason. If you are due to make a payment, this can be done by debit/credit card by ringing Michelle on 020 8629 2783 or by cheque through the post.
If you know of anyone that needs our help please contact the Shul office.
This week's Cranbrook News is kindly sponsored by
Gary, Danielle, David, Lauren and Johnny, on the occasion of Allison's 60th birthday on 30th May 2021.
Shabbat Shalom
Cranbrook US
We want to hear your views! Our membership survey closes on Monday. This is the last chance to tell us your views about Cranbrook United Synagogue and the United Synagogue. Your opinion really matters to us. It will take about 10 minutes to complete and you could win a £100 Amazon voucher. You should have received a unique link in your inbox – if not, please email survey@theus.org.uk. Thank you to those who have filled it in already.
The Torah says….What??
"The Manna tasted whatever you wanted it to taste like"
When I was a child, I was told that the Manna that fell from heaven for the Jewish people tasted of whatever you wanted it to taste like. For example, if you fancied blueberry tart, your Manna would taste of blueberry tart. If you wanted your dinner to be roast beef, the Manna would taste like roast beef.

These words are not what the Torah says at all, and its source is in the Medrash. The Torah explicitly states that it had the appearance of a type of seed. What it tasted like, however, is unclear. In Exodus it is described as tasting like dough which is fried in honey, and in this week's Torah portion, we are told that the Manna tasted like oil. It is also described as bread. So which one was it, and what did it taste like? The Talmud in Yoma (75b) tells asks this exact question:
With regard to the manna, it is written "bread" (Exodus 16:4), and it is written "oil" (Numbers 11:8), and it is written "honey" (Exodus 16:31). How can we reconcile these verses? Rabbi Yosei, son of Rabbi Ḥanina, said: For the youth it was like bread, for the elderly it was like oil, and for the children it was like honey. Each received what was appropriate.
The contradictory description of the Manna forces the Talmud to explain that it was made of bread, but its taste was dependent on your age. If you were younger and wanted something sweeter you got honey, if you were older and needed something to help you digest the bread more easily, it tasted like oil. Perhaps this is the source that supports the idea of my youth, but to a lesser degree. The Manna didn't taste of anything that you wanted it to taste of, but it did taste different according to your age and your dietary requirements. Rashi however does learn this differently. He says that these three tastes were just examples of what the Manna could taste like, really - it could taste like anything you wanted it to taste like! My childhood teaching does have a source. However, this does beg the question, why does the Torah describe the Manna in these three different ways? Why choose to describe it as bread, oil or honey?
I believe that the answer to this is that the Manna was the result of the faith that the Jewish people had in G-d's ability to sustain them in the desert. It tasted of three things because these three things teach us about our faith.
1. Oil helps in digestion. Our faith helps us to deal with things which may be a bit difficult to swallow. When we hear of tragedies that occur in the world, we can use our faith as a way of helping us to understand and accept these difficult things in our lives.
2. Honey is sweet, and our faith provides sweetness to our lives. Knowing that our Father in heaven is taking care of us, gives us a sense of love and security.
3. Bread is the main staple of life. It is something that we desperately need if we are to live. So too, our faith is something that sustains us in our day to day interactions, in the humdrum of our lives.
I wish you all a good Shabbos
Rabbi Steven, Siobhan, Maya and Talia Dansky.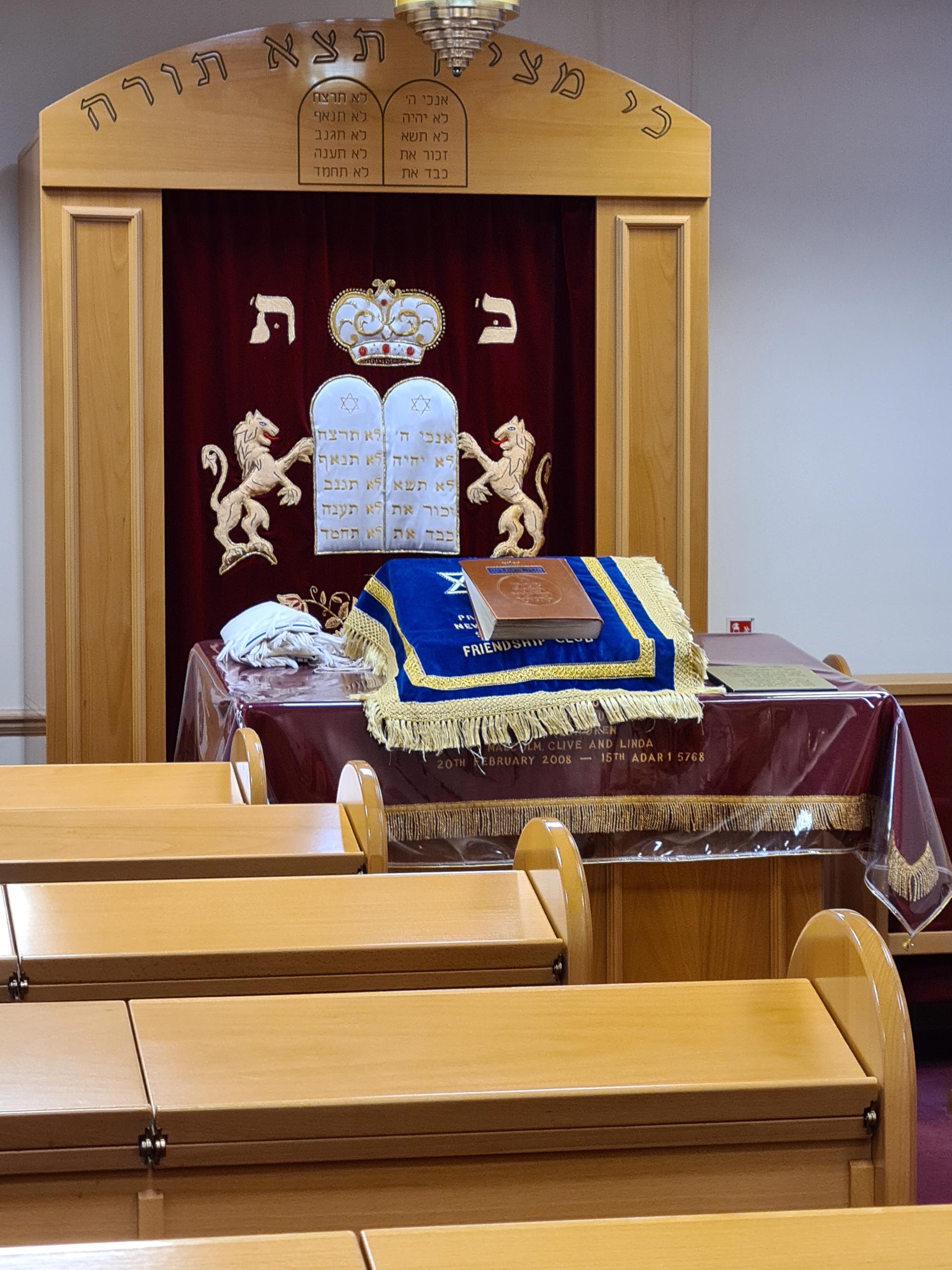 Shul & Zoom Service Details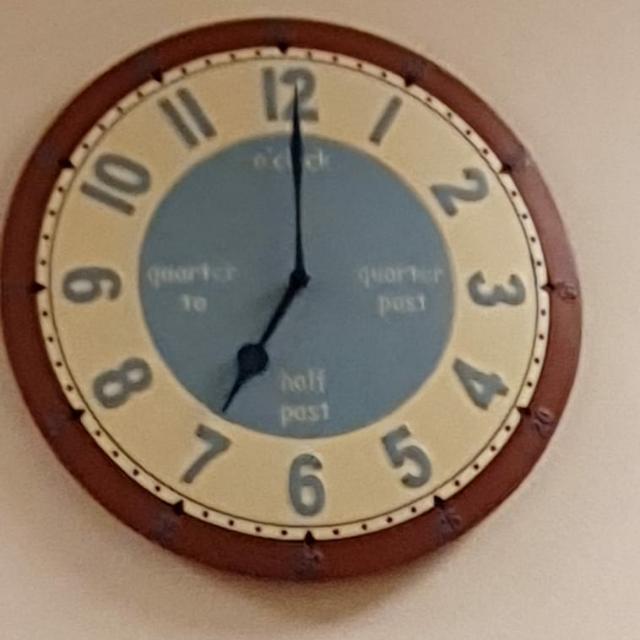 Shabbat Times - Beha'alotcha
Kabbalat Shabbat at 7.15pm in Shul.
Candle Lighting at 7.40pm (8.49pm).
Shacharit begins at 10am in Shul.
Pirkei Avot Chapter 2
Shabbat Ends at 10.07pm.
Shabbat candle lighting (Shelach) next week at 7.40pm (8.57pm).
Clarification regarding the Shabbat times during the summer months

Ordinarily Shabbat begins 15 minutes before sunset. However, as we enter the long days of summer in our community we will be bringing Shabbat in at the earlier time of 7.40 pm.
This will allow our members to have their Friday night meal at a more convenient hour.

For the benefit of our members who are unable to light candles with the rest of the community at 7.40 pm, we have put the latest time for candle lighting in brackets.
Kabbalat Shabbat will take place at 7.15pm throughout the summer.
COVID PRECAUTIONS
MEN TO ENTER THROUGH THE FRONT DOORS.
PROCEED STRAIGHT TO A SEAT WITHOUT STOPPING. AVOID GREETING AND TALKING IN FOYER
LADIES TO ENTER THROUGH SIDE DOORS AND PROCEED TO SEATS UPSTAIRS KEEPING TO THE LEFT
ALL CLOAKROOMS ARE CLOSED KEEP BELONGINGS WITH YOU
NO COMMUNAL SINGING OR CHANTING, RABBI / LEADERS ONLY
MEN TO EXIT ONLY THROUGH THE SIDE AND REAR FIRE EXITS
LADIES TO EXIT USING THE MAIN STAIRCASE, KEEPING LEFT AT ALL TIMES AND PROCEED SLOWLY DOWN THE STAIRS TO FRONT FORECOURT
PLEASE OBSERVE THE 2M SOCIAL DISTANCING RULE AT ALL TIMES
WASH HANDS REGULARLY
Please remember the Guidelines are there for your protection and safety.
Important Reminder
Please be advised the synagogue is not responsible for any property left anywhere in the building for any reason.
No claims whatsoever will be entertained for any loss or damage incurred, all items are left at the owners risk.
With this stipulation the management insist any tallisim or books must be marked with the owners name and address to save any confusion.
The form to add birthdays, wedding anniversaries and yahrzeit insertions in the 2021/22 Cranbrook Synagogue Calendar were recently sent out in your Pesach mailing; if you have mislaid the form it can be downloaded from the synagogue website. Please return the completed form to Ruth Lyndon via the synagogue office; these need to be returned by May, 31 2021.
There are occasions that we need men to help make a minyan at a levoya, this is a great mitzvah. We appreciate that during this difficult time men do not want to go out, perhaps some of our younger members would like to help out.

If you are interested please give Harold a call on 07434 580885.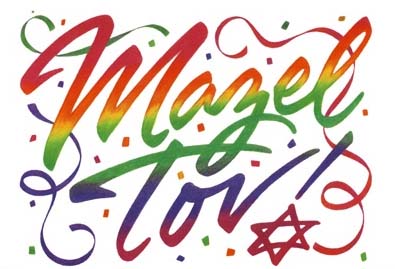 Rosalind & Howard Johnstone and
Andrea & Alan Lester on their respective wedding anniversaries.
Sandra Baum, Jacqualyn Conner,
Brenda Freeder, Martin Freedman,
Karen Friddin, Sara Friddin,
Norman Gershon, Allison Krist,
Ida Lawrence, Malcolm Nathan, Faith Panayi,
Helen Tisser and Jemma Woolf on their respective birthdays.
Jeff and Sue Faber on the birth of a baby granddaughter

Kelly and James on the birth of a daughter.
Sponsorship
If you would like to mark a birthday or Simcha, or want to commemorate a Yahrzeit, this can be done by sponsoring Cranbrook News. In the forthcoming weeks, there are many dates that are available. The cost of sponsoring Cranbrook News is £15.
Sponsorship is available for the on-line version of Cranbrook News on the following dates: June 12th; July 3rd, 17th & 31st; 7th & 14th August.
To book any of these dates please call the synagogue office on: 020 8629 2780 or e-mail admin@cranbrooksynagogue.org.uk
Condolences to:
Sandra and Ashley Veronique on the loss of their mother, Joyce Veronique.
We wish Long Life to everyone who is observing a Yahrzeit this week:

Deborah Allen, Millie Allen, Vivienne Berlin, Mavis Bonham,
Frances Bronzite, Helen Brownstone, Elaine Chaplin, Marilynne Chyte,
Shirley Collett, Martine Conway, Joseph Coram, Doreen Curtis,
Elizabeth Elvins, Leila Fields, David Fineberg, David Flaum,
Andrew Freedman, Hilary Goldstein, Alan Graham, Dawn Graham,
Marina Graham, Sheila Graham, Anne Green, Elizabeth Greene,
Michael Griver, Joyce Halperin, Myrtle Holman, Sharon Joseph,
Freda Katz, Sheila Keizner, Marilyn Mandel, Harold Marco,
Cyril Marks, Linda Mishkin, Diana Neslen, Mandie Preston,
Elaine Price, Francklyn Rabin, Gerald Reisman, Rosalie Shaffron,
Shirley Silver, Leslie Simons, Linda Stanton, Philippa Stanton,
Harvey Student, Martin Taylor and Martin Wickers.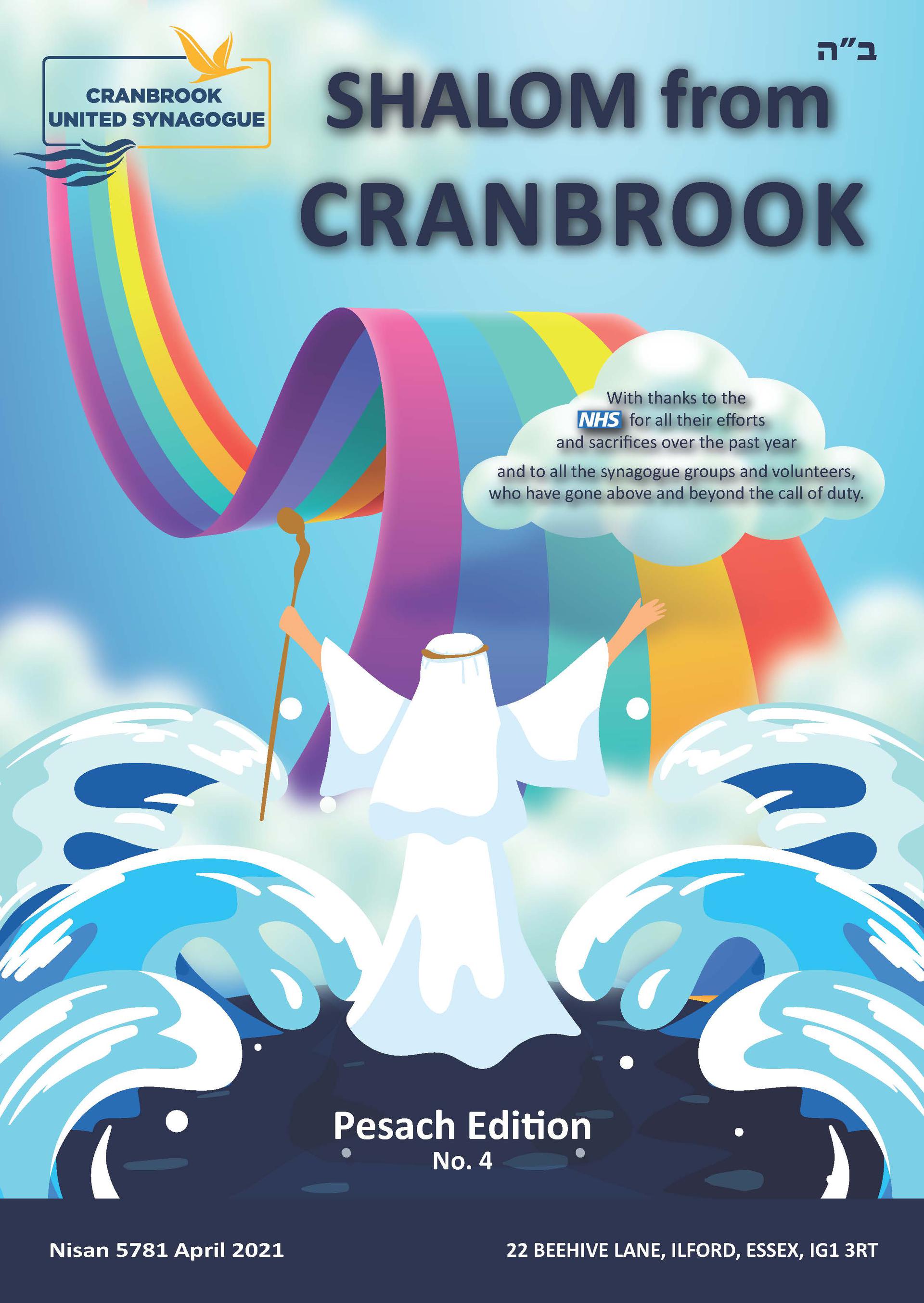 Many thanks to everyone who submitted articles for the Pesach Edition of the Shalom Magazine - we have had some excellent feedback from our readers.
I am now working on the Rosh Hashanah 5782 Edition of the Shul Magazine. If you have any interesting or amusing articles with a Jewish content that you would like us to include, please email them as soon as possible to Philippa Stanton at stanton.philippa@gmail.com.

All articles, pictures and stories must be received by 6 July, 2021 - however, I have already started collecting new articles, so please email me as soon as you can!

I look forward to hearing from you.

Philippa Stanton - Editor
Shul Office Opening Hours
As the Shul office is not open currently please call Estelle on 020 8629 2780 or Michelle on 020 8629 2783.
Rabbi Dansky is available out of hours. You can contact him directly on his mobile 07780 236697 or by calling the Shul office and selecting option 3.
Reverend Newman is available out of hours. You can contact him directly on his mobile 07882 054321 or by calling the Shul office and selecting option 4.
If you no longer wish to receive community information from
Cranbrook United Synagogue, please unsubscribe here