Shabbat, 28th March 2020 / 3rd Nisan 5780
Vayikra
Dear [FIRST_NAME],
Please see below our weekly e-newsletter.
On the advice of the Chief Rabbi's Office, please note that all services at the Synagogue have been cancelled until further notice.
We hope that where possible you will keep to the Government's advice regarding self isolation and avoiding non-essential gatherings.
If you are in need of anything then please ring the Synagogue Office on: 0208 629 2780 and we will try to assist you.
This week's Cranbrook News is sponsored by Michael Griver in loving memory of Leslie Griver z"l.
Shabbat Shalom,
Cranbrook US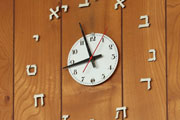 Shabbat Times - Vayikra
Friday night - Candle Lighting before 5.59pm
Shabbat ends - 7.02pm
Next Friday night: Candle Lighting before 6.11pm
Dear Friends
I hope that this finds you all well and safe. As the government is finding out more about the Coronavirus, more and more is being done to ensure that this virus is not being spread. Whilst our wellbeing is being safeguarded, it comes with a cost. And that cost is our personal ability to move around freely, to be able to act with the level of agency that we have in the past. This can be very disempowering, and can cause people to feel stressed, as there is no way to control the situation in which we can find ourselves in. People may feel depressed and sad about the limitations which have been placed upon them at this time. If you are feeling in this way, please know that I am here for you during this difficult time. I urge you to give me a call, and we can discuss this in greater depth.
The sages tell us something very important about the nature of control over the things that happen in our lives. They say that everything is in the hands of Heaven, except for the fear of Heaven. This statement of the rabbis goes directly in the face of the way that we try to live our lives, trying to control the elements around us to ensure that we get the results that we want. We live our lives trying to convince ourselves that we are the ones who are in control, that we are masters of our destinies. On the one hand, this view bolsters our sense of self - after all, look at all the things that we can do. However, with this comes the pressure of living up to expectations which are sometimes beyond us. The stress of saying that "it's all up to me" can be overwhelming. That sort of stress can be incredibly dangerous to any human being.
The sages were aware of this and they said: Everything is in the hands of Heaven - yes we need to try our best to deal with whatever is going on in the world, but at the end of the day the Almighty is the one who is truly in control of the world.
If we did more than hear this idea, if we had the capacity to truly incorporate this into our lives we would be far more calm and at peace with our lives, knowing that the work is not upon you to do, yet at the same time that doesn't make us free from making an attempt of dealing with it.
This virus is forcing us to come to this realisation, to realise that there are some things that we simply can't control. All that we can control is our relationship to the Almighty, and that ultimately everything is in his hands.
I wish you all a peaceful and more importantly, a safe Shabbos.
From Rabbi Steven, Siobhan, Maya and Talia Dansky
We wish Mazal Tov to the following members:
Pamela & Edward Harris on their Golden Wedding Anniversary.
Renee Adler, Geoffrey Cohen, Renee Graham, Howard Foreman,
Jane Greenberg, Francis Keen, Sadie Langsman, Marilyn Lester,
Hetty Liborwich, Gemma Miller, Ronald Moss, Zena Shayer,
Malcolm Schneider and Julian Silver on their respective birthdays.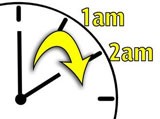 Don't forget to move your clocks FORWARD as British Summer Time commences at 1am on Sunday morning.
Condolences to:
Dr Keith Shenker on the loss of his brother in Israel.
If you would like to mark a birthday or Simcha, or want to commemorate a Yahrzeit, this can be done by sponsoring Cranbrook News. In the forthcoming weeks, there are many dates that are available. The cost of sponsoring Cranbrook News is £15, Shabbat afternoon Seudah is £25, or a Sunday breakfast is £45.
Sponsorship is available for the printed version of Cranbrook News on the following dates, April 4th, 11th, 18th and 25th; May 2nd, 23rd and 30th. To book any of these dates please call the synagogue office on: 020-8629 2780 or e-mail admin@cranbrooksynagogue.org.uk
Please click here for the application form for the 5781/2021 calendar.
Forms need to be sent into the office with payment or scanned to the office and telephone payments can be made.
No cash payments can be received at this time.
We wish Long Life to everyone who is observing a Yahrzeit this week:
Frances Baum, Rochelle Bennett, Lilian Black, Mercia Bloom, Adrienne Braham,
Renee Bravo, Irene Collins, Hetty Conway, Betty Cooper, Rachel Crabbe, Audrey Davis, Sandra Dollow, Rita Dryer, Debra Eisner, Carol Emden, David Flaum, Helen Flax,
Rhoda Freedman, Lionel Goldberg, Freda Goldstein, Ernest Green, Barbara Grossman, Gerald Harris, Rachelle Hohenstein, Gary Hyman, Adele Judt, Rosalind Kaye,
Aline Kaye, Jessie Kenton, Sadie Langsman, Susan Lasky, Leslie Leigh, Sally Leigh,
Edward Leon, Roy Levene, Alan Levene, Maureen Linder, Harold Marco, Joyce Meltzer, Merissa Metzger, Shirley Millar, Sandra Mitchell, Linda Myers, Malcolm Nathan, Kay Nathan, Russell Prince, Jean Prince, Arnold Rose, Lilian Rosenberg,
Sidney Schlesinger, Jeffrey Scott, Anita Sears, Victor Shafier, Barry Shamplin,
Brenda Shinett, Helen Silton, Kathleen Simmons, Raya Simons, Aubrey Siteman,
Haim Sobel, Cyril Stoller, Barbara Stone, Philip Teff, Kenneth Turner, Eileen Vilka, Helena Weston, Derek Wigul, Phoebe Wigul, Josette Wolffe and Sylvia Zilesnick.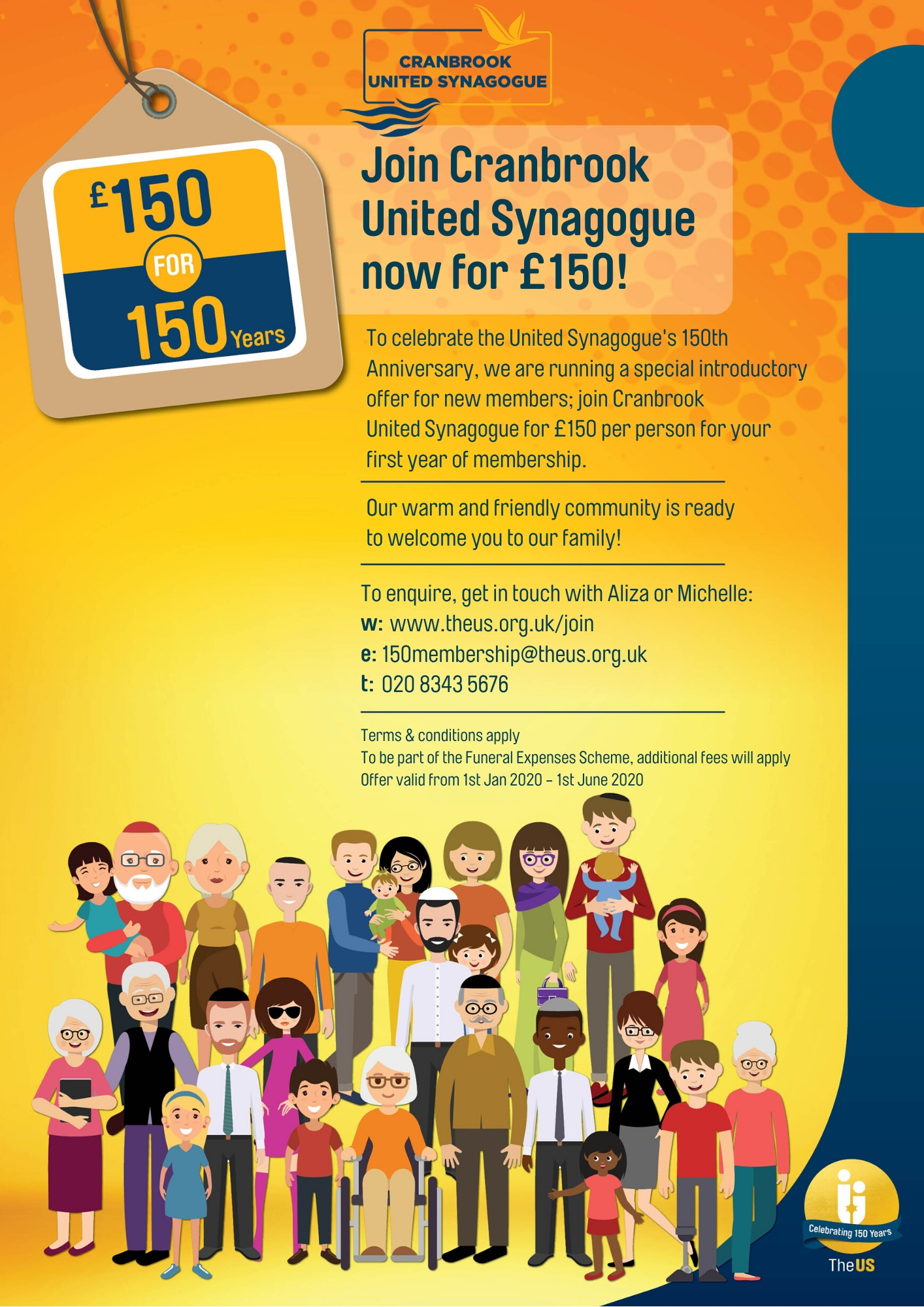 The 200 Club
The 200 Club aims to raise funds for building and maintaining the Shul, but has extended its function to help with various events that need organising for the Shul.

For £5 a month (for at least twelve months) you are entered into a monthly draw for one prize of £250, and a second prize of £100. There is no limit to the number of times you can win.
To join please fill out the application form by clicking here.

Shul Office Opening Hours
As the Shul office is not open currently please call Michelle Fraser directly on 020 8629 2783 as all the phones have all been redirected.
Rabbi Dansky is available out of hours. You can contact him directly on his mobile 07780 236697 or by calling the Shul office and selecting option 3.
Reverend Newman is also available out of hours. You can contact him directly on his mobile 07882 054321 or by calling the Shul office and selecting option 4.
If you no longer wish to receive community information from
Cranbrook United Synagogue, please unsubscribe here