Shabbat, 25th April 2020 / 1st Iyar 5780
Tazria-Metzora / 16th Day Omer / Pirkei-Avot: Chapter 2
Dear Member,
Please see below our weekly e-newsletter.
On the advice of the Chief Rabbi's Office, please note that all services at the Synagogue have been cancelled until further notice.
We hope that where possible you will keep to the Government's advice regarding self isolation and avoiding non-essential gatherings.
If you are in need of anything then please ring the Synagogue Office on: 0208 629 2780 and we will try to assist you.
Shabbat Shalom,
Cranbrook US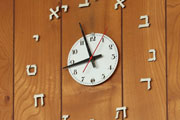 Shabbat Times - Tazria-Metzora
Friday night - Candle Lighting before 7.40pm
Shabbat ends - 9.06pm
Next Friday night: Candle Lighting before 7.40pm
The latest time for candle lighting next week (Achrei Mos-Kedoshim) is at 8.09 pm.
Clarification regarding the Shabbat times during the summer months
Ordinarily Shabbat begins 18 minutes before sunset. However, as we enter the long days of summer in our community we will be bringing Shabbat in at the earlier time of 7.40pm.
This will allow our members to have their Friday night meal at a more convenient hour.
For the benefit of our members who are unable to light candles with the rest of the community at 7.40pm, we will publish in the newsletter the latest time for candle lighting.
Dear Friends,
"And he shall take cedarwood and hyssop..." (Leviticus, 14:4)
In this week's parasha, the spiritual leper is told to take these two plants for himself and use them as part of the sacrifice that he needs to bring once his leprosy has concluded. The sages are interested in why specifically these plans are used. Rashi, quoting from the medrash tells us that cedars are the tallest of the trees, whereas the hyssop was the lowest of the shrubs that grew. While this is an undoubtedly interesting piece of information concerning flora, what message is it supposed to be giving to the leper?
Our Rabbis explain that the word Metzora comes from the word "Mozti Ra" which means someone who finds bad. An individual who is able to find the negative, our rabbis infer, is someone who is likely to communicate that negativity to others. These two plants provide us with a psychological reason as to why they think on these pessimistic lines, because they consciously see themselves as being like the cedar while the reality is that their true self is the hyssop. I know this sounds complicated, and I will endeavour to explain what I mean.
Those who see themselves like the cedar have an incredibly high perspective of themselves. Their visible ego enables them to see themselves as better than everybody else, and therefore anything they feel they have the right to criticise anybody and that does not meet their lofty standards. This leads to discriminatory comments against those who do not lead the same life as they do, or do not act in the way that they would act, or those who choose for themselves a different way of looking at the world.
Our sages are telling us that this huge ego has its source in a sense of inferiority, of smallness. The truth is that this huge sense of self and entitlement is a subterfuge for a person who doesn't really feel that they are sufficient in any way. They feel less than, and this motivates them to try and find a way of levelling the field, of being equal to others. The easiest way to do this is to bring others down to their level, and they achieve this by speaking badly of them, and thinking negatively of others as a result.
The Torah is telling us on a certain level to feel sorry for these individuals, to pity them. If we understand their psychology, we understand the forces which motivate them to belittle everything around them. Their large ego, and their ability to assassinate other people's characters and actions lies more in their own psychological sense of unworthiness than in the reality of what is happening around them.
Shabbat Shalom
Rabbi Steven, Siobhan, Maya and Talia Dansky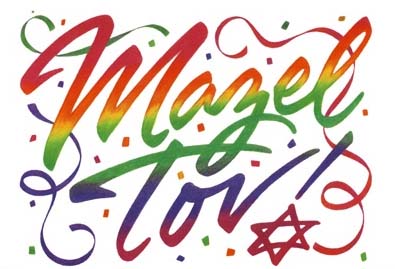 David Burack, Ivor Clements, Shirley Kravitz ,
Alma Levene, Anne Lieberman, Peter Mendel,
Tracey Sanett ,Ivor Wagner and Henry Waldman on their respective birthdays.
Jewish Bereavement Counselling Services
During this unprecedented and often distressing time we wanted to provide the Community with some information about the The Jewish Bereavement Counselling Service which may be able to provide comfort to the families of those bereaved during this pandemic. Please see the details below.
The Jewish Bereavement Counselling Service is a confidential counselling organisation available to people of all ages within the Jewish community. Despite safe distancing and self-isolation due to Covid19, JBCS is able to provide counselling through telephone and online platforms. Please contact Trisha Curtis on:

Trisha Curtis
Manager
Telephone: 0208 951 3881
Email: trisha@jbcs.org.uk
Web: www.jbcs.org.uk

JBCS bereavement support groups:
Bereaved Parents – for people bereaved of an adult child
Stronger Together – for people (60+) who have lost a partner
Butterflies - for mums and dads (of young children) who have lost a parent
Aftershock - for young adults (18 – 30 years) who have lost a parent
Stepping Stones – for people (40 – 60 years) who have lost a partner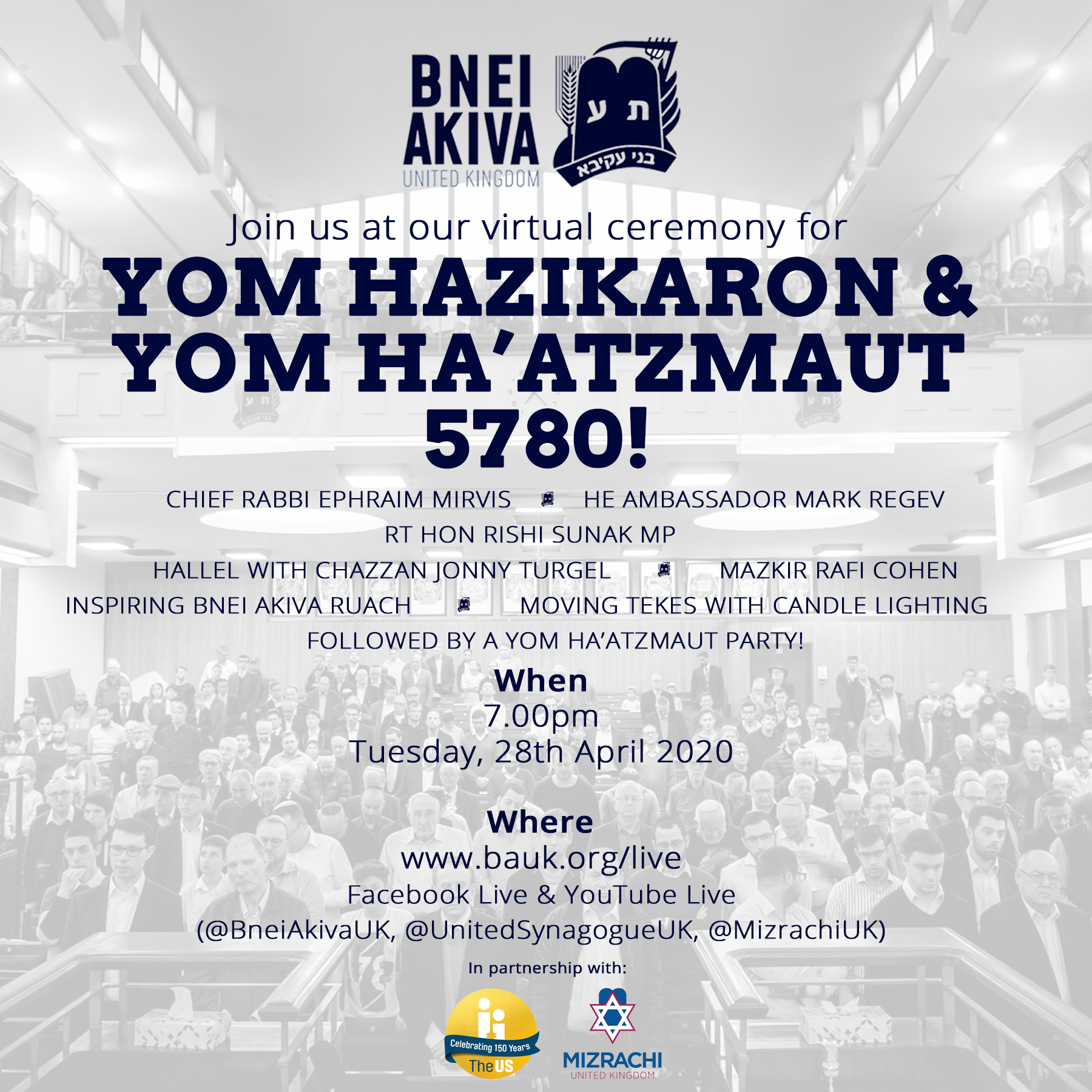 Yom Hazikaron and Yom Ha'atzmaut: Live!
Tuesday 28 April, 7.00pm
The entire community is invited to join Bnei Akiva at a virtual ceremony for Yom Hazikaron and Yom Ha'atzmaut. Join the Chief Rabbi, His Excellency Mark Regev and Chazan Jonny Turgel for an inspiring evening featuring contributions from political and communal leaders.
Befrienders needed
Prior to the pandemic, we were being asked by some of our older members if they could have someone visit them on a regular basis and become a befriender. This is more important than ever with members having to self isolate because of the coronavirus pandemic.
It is very important that we, as human beings, have contact with another person, whether to benefit their mental health, create a friendship or just having someone to talk to. Could you be this special person bringing some sunshine and positivity into the life of one of our older/vulnerable, valued and interesting member?
At the moment all that would be required is to make a regular phone call. However, once the pandemic is over it would be great if the befriender could visit instead of ringing but that decision would be made by the befriender and the person being called.
Please consider becoming a much needed befriender during such a difficult time. Lorraine can be contacted on: lsilverwelfare@cranbrooksynagogue.or.uk or call the office 020 8629 2783.
Condolences to:
David Michaels on the loss of his wife, Barbara Michaels.
Marina and Lorraine on the loss of their mother, Barbara Michaels.
Barbara Cohen on the loss of her partner, Michael Cohen.
Joan Bajer on the loss of her husband Jacob (Jack) Bajer.
David and Mark Bajer on the loss of their father, Jacob (Jack) Bajer.
Barbara Poluck on the loss of her husband, Ralph Poluck.
Simon and David Poluck on the loss of their father, Ralph Poluck.
Jill Myers and Tricia Davis on the loss of their mother, Gertrude Wolfson.
Shelley O'Connor and Lorraine Thornton on the loss of their mother, Anne Thornton.
Leila Delew on the loss of her husband, Morris Delew.
Michelle Golding and David Delew on the loss of their father, Morris Delew.
Melanie Nathan & Antony Moss on the loss of their father, Ronald Moss.
Karen Lichkin on the loss of her husband, Terry Lichkin.

Michelle and Rachel Lichkin on the loss of their father, Terry Lichkin.
Lily Lee on the loss of her son, Terry Lichkin.
Brian Lee on the loss of his brother, Terry Lichkin.
If you would like to mark a birthday or Simcha, or want to commemorate a Yahrzeit, this can be done by sponsoring Cranbrook News. In the forthcoming weeks, there are many dates that are available. The cost of sponsoring Cranbrook News is £15.
Sponsorship is available for the on-line version of Cranbrook News on the following dates, May 2nd, 23rd and 30th; June 6th, 20th and 27th. To book any of these dates please call the synagogue office on: 020-8629 2780 or e-mail admin@cranbrooksynagogue.org.uk
Please click here for the application form for the 5781/2021 calendar.
Forms need to be sent into the office with payment or scanned and e-mailed to the office.
Please call the office on 020 8629 2783 to make payment for the Calendar by debit/credit card or send a cheque to the office.
No cash payments can be received at this time.
We wish Long Life to everyone who is observing a Yahrzeit this week:
Michael Aaron, Edward Adler, Sandra Angel, Rochelle Bennett, Shirley Benton,
Shirley Bernstein, Michael Bien, Michelle Bolle, Alan Burns, Terence Chyte,
Barry Cohen, Miriam Conway, Mildred Davies, Marion Frankel, Vivienne Gold,
Alan Golstein,
Elizabeth Greyman, Heather Hawkes, Celia Hine,
Rachelle Hohenstein, Roma Ingram,
Angela Kalmanson, Martin Kay,
Sandra Keller, Irene Klein,
Pauline Lester,
Ivor Lethbridge, Alma Levene,
Betty Levine, Sheila Levy,
Jean Lowi, Keith Luton,
Cyril Marks, Linda Martin,
Ruth Mendelsohn,
Vera Miller, Rhona Morris, Susan Morrison, Beverley Myers,
Adele Pearl,
Sheila Penfield, Malcolm Perez, Helen Rabin, Yvonne Rein,
Angela Roberts,
Ruth Rose, Ruth Rosen, Ruth Russell, Clive Schaller,
Linda Schaller,
Malcolm Schaller, Anita Sears, Vivienne Seigar, Jack Selner,
Doris Sheril,
Eva Sherman, Martine Sholem, Martin Silver, Estelle Smiler,
Rita Stevens,
Stephanie Student,
Ellard Swillman,
Maureen Tassie,
Michael Vincent and
David Wallace.
Shul Office Opening Hours
As the Shul office is not open currently please call Estelle on 020 8629 2780 or Michelle on 020 8629 2783 as all the phones have all been redirected.
Rabbi Dansky is available out of hours. You can contact him directly on his mobile 07780 236697 or by calling the Shul office and selecting option 3.
Reverend Newman is also available out of hours. You can contact him directly on his mobile 07882 054321 or by calling the Shul office and selecting option 4.
If you no longer wish to receive community information from
Cranbrook United Synagogue, please unsubscribe here