Shabbat, 6th June 2020 / 14th Sivan 5780
Naso / Pirkei-Avot: Chapter 1
Dear Member,
Please see below our weekly e-newsletter.
On the advice of the Chief Rabbi's Office, please note that all services at the Synagogue have been cancelled until further notice.
We hope that where possible you will keep to the Government's advice regarding self isolation and avoiding non-essential gatherings.
If you are in need of anything then please ring the Synagogue Office on: 0208 629 2780 and we will try to assist you.
Shabbat Shalom,
Cranbrook US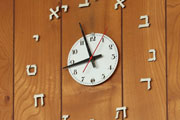 Shabbat Times - Naso
Friday night - Candle Lighting 7.40pm
Latest time to light candles is at 8:58pm
Shabbat ends - 10.18pm
The latest time for candle lighting next week (Beha'alotcha) is at 9.04 pm.
Clarification regarding the Shabbat times during the summer months
Ordinarily Shabbat begins 18 minutes before sunset. However, as we enter the long days of summer in our community we will be bringing Shabbat in at the earlier time of 7.40pm.
This will allow our members to have their Friday night meal at a more convenient hour.
For the benefit of our members who are unable to light candles with the rest of the community at 7.40pm, we will publish in the newsletter the latest time for candle lighting.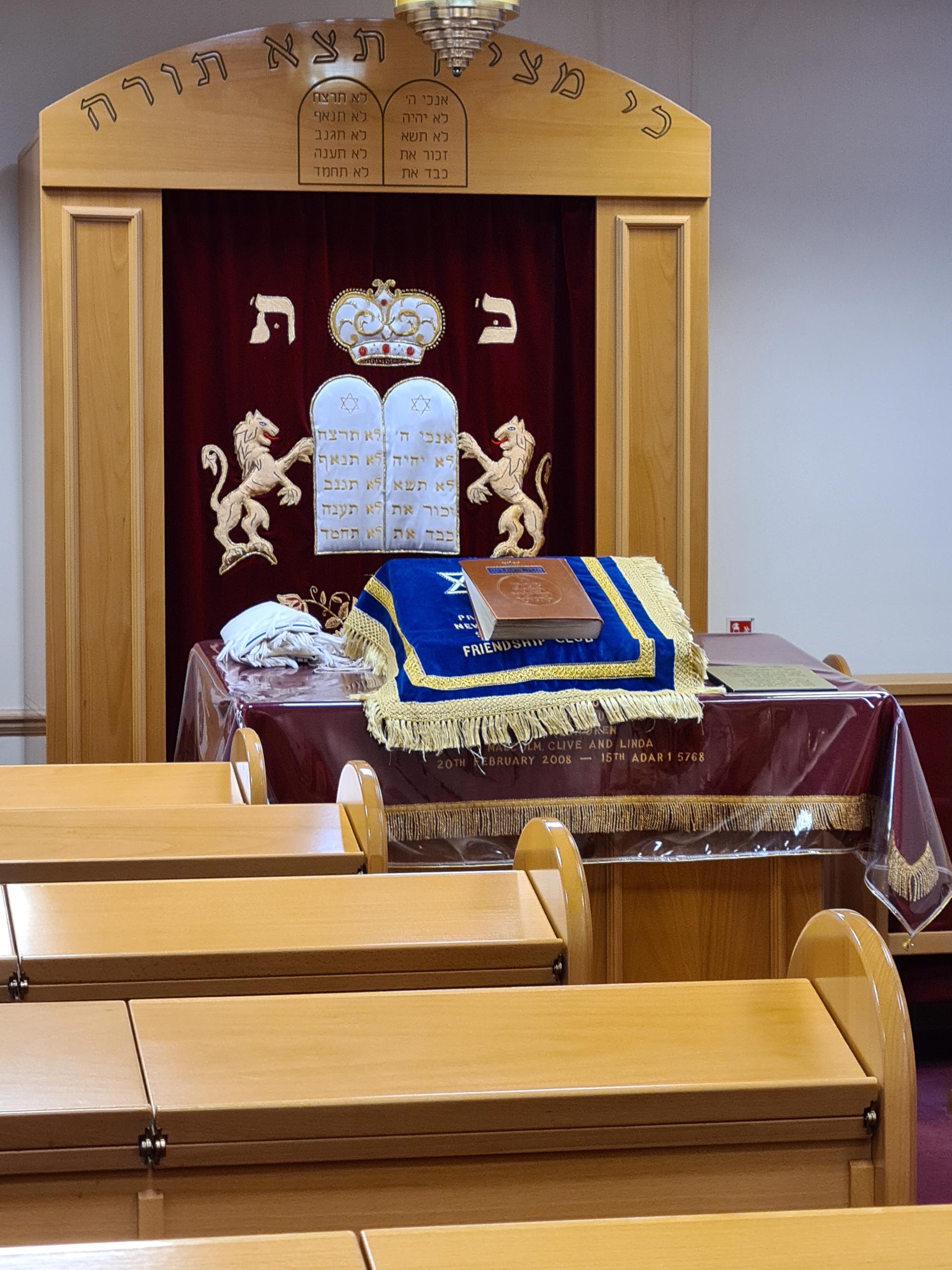 News and Views

At the end of this week's parasha - Naso - we find a list of the offerings that each Prince of the tribes of Israel donated. Each tribe brought exactly the same thing, and there are 71 verses which repeat each one of their offerings and gifts.
Why bother repeating the same thing again and again? The verses could have just stated: ":"The heads of each of the tribes offered...... for the dedication of the Altar"?
If you have ever spent time in the home of a large family, you will notice that every year, as each child moves up a class in school they bring home the same artwork.
Projects, songs, worksheets that their siblings brought home 12 months earlier. Yet the parents still put the new artwork on the fridge and still listen to the songs being sung year after year. Why? The parents know the songs already. They have seen all of these projects done before.
Parents tend to give this level of attention and importance to their child's
offerings as although the offering is insignificant, the child is precious. Parents cherish hearing the same songs year after year because although the words don't change, they love their children and their children are more important to them than the content of the song they are singing. When the spotlight is on that child, for that moment, he/she is like the first and only one to have sung that song.
Although the gifts were the same from each tribe, Hashem uses 71 verses to detail the contents of each gift because Hashem loves each of the people who gave it as if they were His only child. When each tribal head gave their offering, the spotlight was on them and what had come before, and what was to come was not as important as what was being given then and there.
Today, we may question why we all need to pray, learn Torah, keep Shabbat,
give charity etc. Surely as long as some people are doing it, I'm covered by their actions? However this is simply not true. The act may be done, but they are not being done by YOU. Your actions are important to Hashem because Hashem loves You as His only child. Every time you do a mitzvah, the spotlight is on You. You are precious and what You do is treasured by Hashem.
Shabbat Shalom
Rabbi Steven, Siobhan, Maya and Talia Dansky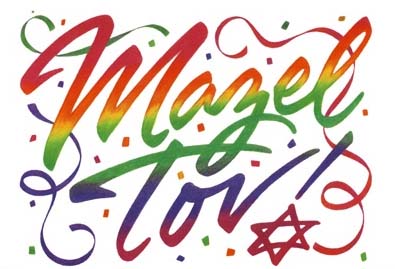 Mavis & Levy Sampson on their Blue Sapphire (65th) Wedding Anniversary.

Sylvia & Lionel Braden, Gloria & Lionel Goldberg, Barbara & Bernard Klinger, Shirley & Gabriel Shine
on their Diamond (60th) Wedding Anniversaries.

Monique & Jonathan Gold on their Pearl (30th) Wedding Anniversary.

David Decker, Andrew Freedman, Stephen Goldberg, Doreen Golding, Esther Michaels, Yaffa Nathan, Bernard Silver, Karen Sterne and Helen Walters on their respective birthdays.
Thoughts about Doreen Cohen by Kenneth Black.
Many years ago, Ilford Ajex held a Chanukah children's party. As usual with children, they were running around fairly wildly. Suddenly a young lady went on the stage, clapped her hands together, said "NOW CHILDREN" in her special voice, and there was instant silence. Rev. Black turned to Harry Goldner and said "We need her for Cheder."
Doreen Cohen, who was already a full-time teacher, quickly became the head of the Infant Cheder, meeting at Gearies School, and Deputy Head of the whole of the huge Ilford Synagogue Cheder.
She had taught at Robert Montefiore School and then joined Stepney Jewish. She was already living with her husband, Henry, and her two daughters, Suzanne and Leonie, in Ilford, and naturally transferred with Stepney Jewish when it became Ilford Jewish Primary School, becoming head of the IJP Infants' Department. When the Deputy Head, Harry Balkin, became head, Doreen became the school's Deputy Head.
At the same time, Doreen was leading the Ilford Shul's Under Eights' Shabbat Services, attracting quite a number of parents as well as the children.
She played a part in the 35s group, who at the time were knitting warm clothes for the Russian Refusniks.
She and Henry were founder members of the Friends of the Jerusalem Botanical Gardens. She held regular Plant Sales at her home in Glenwood Gardens to raise funds. If you visit Jerusalem, you can see a bench in Henry's name, and there is also technical equipment given by the Cohen family.
After "retiring" Doreen would guide children of other religious domination around the Shul, and received the M.B.E. From the Queen for her services to Interfaith and Education services.
For the last six of her 92 years, she lived at Jewish Care's Rosetrees home in Friern Barnet and often told me how lucky she was to be there. She was near her daughters and was once again able to go to Shul each Shabbat and Yom Tov.
She leaves behind her family, colleagues, friends and countless pupils who each have their own memories of Doreen Cohen.
Typical of Doreen, right up to the end, at the completion of our regular phones calls, Doreen would say, "If there's anything I can do to help you and Lilian (or sometimes the Shul) please let me know.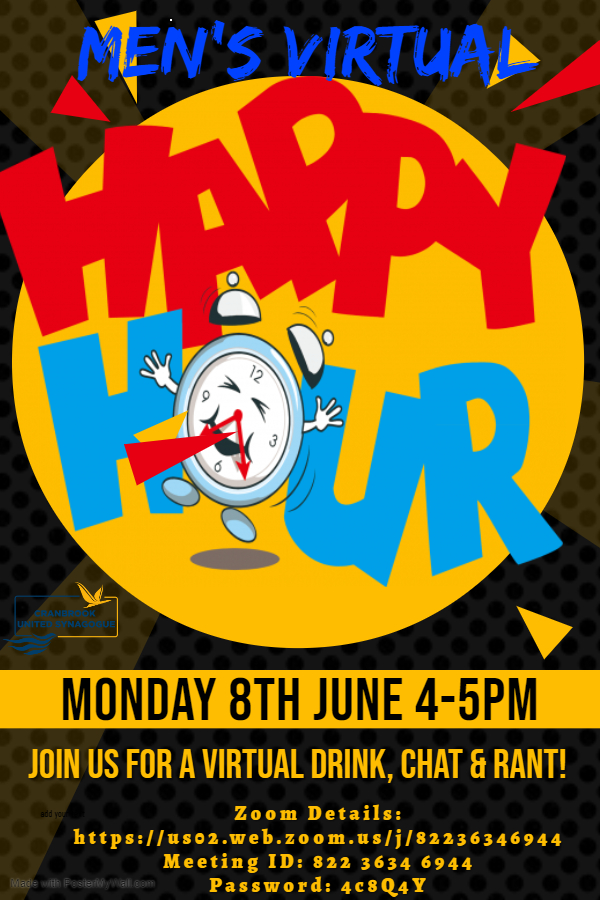 Shalom Magazine, Rosh Hashanah 5781 Edition (September 2020)
Bored?
Fed up with being stuck at home?
Looking for something to do?
Why not contribute to the Rosh Hashanah Edition of Shalom, your Shul Magazine? "Anyone can Write", so put pen to paper - or fingers to keyboard - and produce an interesting article, preferably with a Jewish content!
Please email articles by 10th July 2020 to stanton.philippa@gmail.com or, if you aren't on email, post your written work to Philippa Stanton, 39, St Peters Close, Newbury Park, Essex, IG2 7QL giving your telephone number.
All contributions will be acknowledged either by email or by telephone.
I look forward to hearing from you. - Philippa Stanton - Editor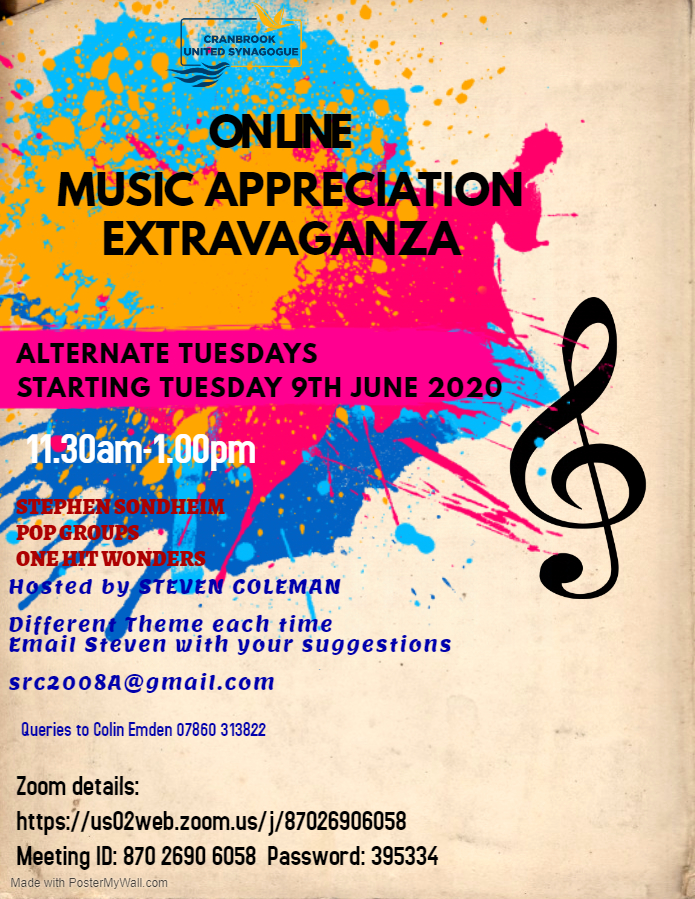 Befrienders needed
Prior to the pandemic, we were being asked by some of our older members if they could have someone visit them on a regular basis and become a befriender. This is more important than ever with members having to self isolate because of the coronavirus pandemic.
It is very important that we, as human beings, have contact with another person, whether to benefit their mental health, create a friendship or just having someone to talk to. Could you be this special person bringing some sunshine and positivity into the life of one of our older/vulnerable, valued and interesting member?
At the moment all that would be required is to make a regular phone call. However, once the pandemic is over it would be great if the befriender could visit instead of ringing but that decision would be made by the befriender and the person being called.
Please consider becoming a much needed befriender during such a difficult time. Lorraine can be contacted on: lsilverwelfare@cranbrooksynagogue.org.uk or call the office 020 8629 2780.
If you would like to mark a birthday or Simcha, or want to commemorate a Yahrzeit, this can be done by sponsoring Cranbrook News. In the forthcoming weeks, there are many dates that are available. The cost of sponsoring Cranbrook News is £15.
Sponsorship is available for the on-line version of Cranbrook News on the following dates, June 20th and 27th; July 25th; August 8, 15th and 22nd.
To book any of these dates please call the synagogue office on: 020-8629 2780 or e-mail admin@cranbrooksynagogue.org.uk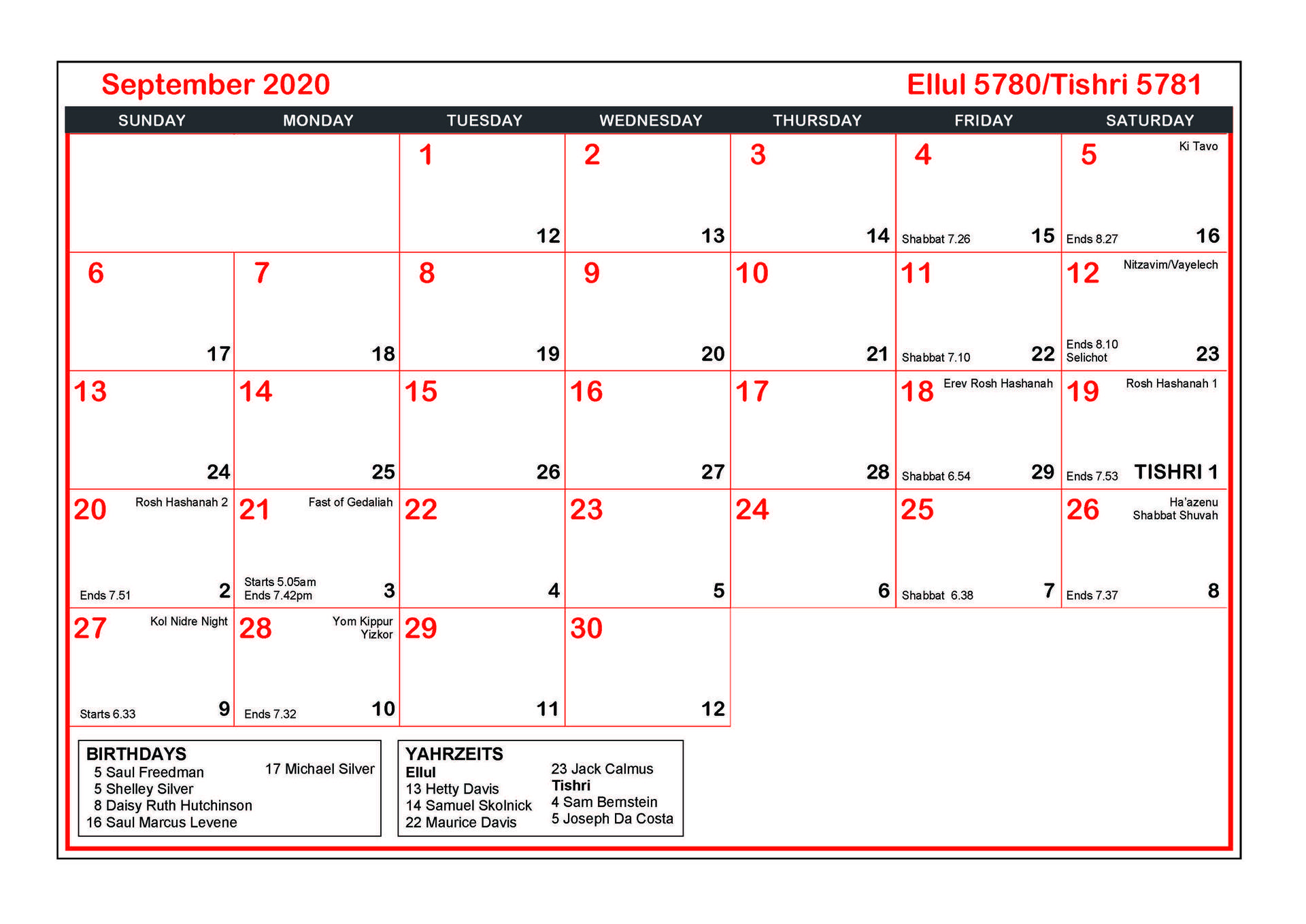 5781/2021 Communal Calendar
Forms need to be sent into the office with payment or scanned and e-mailed to the office.
Please call the office on 020 8629 2783 to make payment for the Calendar by debit/credit card or send a cheque to the office.
No cash payments can be received at this time.
Condolences to:
Suzanne Braham and Leonie Ingram on the loss of their mother, Doreen Cohen MBE.
Adele Judt on the loss of her husband Frank Judt.
Emma Clements on the loss of her father, Frank Judt.
Sinclair Frydland, Geoffrey Frydland (Yehuda ben Zev Ha Cohen) and Cheryl Freeman on the loss of their brother, Ian Morgan Frydland.
We wish Long Life to everyone who is observing a Yahrzeit this week:
Deborah Allen, Millie Allen, Stephen Bloom, Frances Bronzite,
Sandra Carson, Elaine Chaplin, Marilynne Chyte, Shirley Collett,
Irene Collins, Martine Conway, Alan Cooper, Joseph Coram,
David Decker, Ian Duque, Elizabeth Elvins, Nigel Fidlan,
Leila Fields, David Fineberg, Irving Freed, Andrew Freedman,
Vivienne Gold, Gerald Gold, Shirley Gold, Hilary Goldstein,
Anne Green, Rita Haberman, Susan Hahn, Joyce Halperin,
Myrtle Holman, Freda Katz, Jonathan Kent, Simone Kramer,
Eva Kushin, Michael Levene, Suzanne Levy, David Lindner,
Frances Litkin, Anita Macatonia, Marilyn Mandel, Anne Marsh,
Malcolm Nathan, Melanie Nathan, Mark Serkes, Doris Sheril,
Julian Silver, Shirley Silver, Leslie Simons, Linda Stanton,
Philippa Stanton, Paul Stein, Barbara Swillman, Alan Tartes,
Daniel Taylor, Iris Taylor, Alan Turner,
Henry Waldman
and
Martin Wickers.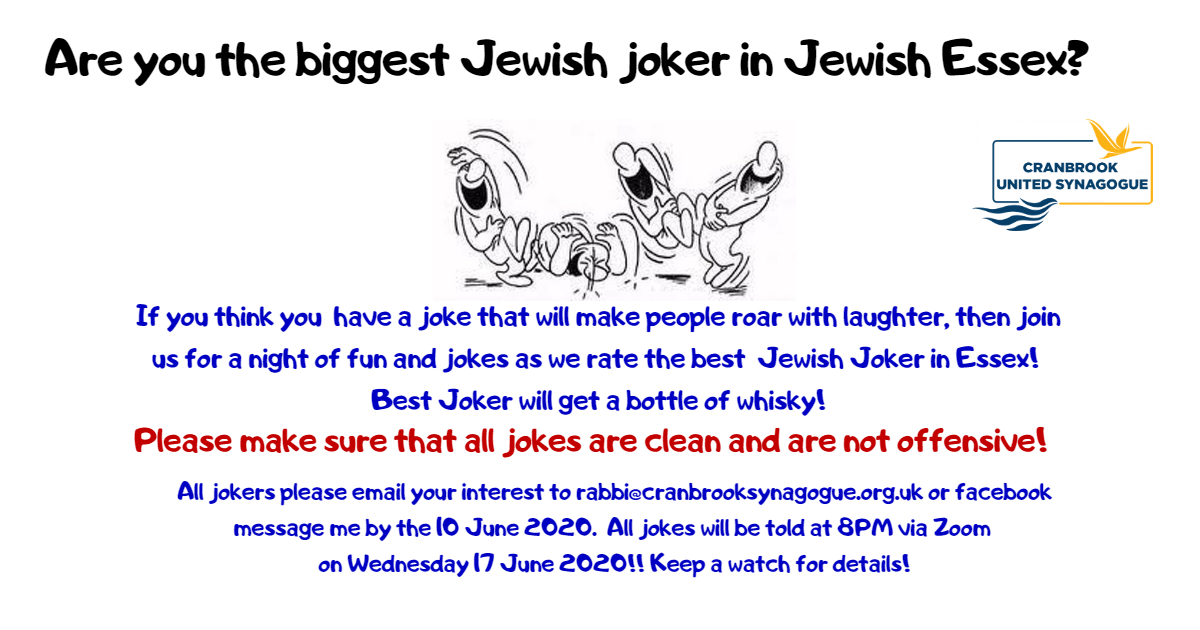 Shul Office Opening Hours
As the Shul office is not open currently please call Estelle on 020 8629 2780 or Michelle on 020 8629 2783 as all the phones have all been redirected.
Rabbi Dansky is available out of hours. You can contact him directly on his mobile 07780 236697 or by calling the Shul office and selecting option 3.
If you no longer wish to receive community information from
Cranbrook United Synagogue, please unsubscribe here