Shabbat, 11th April 2020 / 17th Nisan 5780
Shabbat Chol Hamoed
Dear [FIRST_NAME],
Please see below our weekly e-newsletter.
On the advice of the Chief Rabbi's Office, please note that all services at the Synagogue have been cancelled until further notice.
We hope that where possible you will keep to the Government's advice regarding self isolation and avoiding non-essential gatherings.
If you are in need of anything then please ring the Synagogue Office on: 0208 629 2780 and we will try to assist you.
Rabbi Dansky, Reverend Newman, the Executive Board and the Synagogue Advisory Council wish you all a Happy, Healthy and Kosher Pesach.
Shabbat Shalom,
Cranbrook US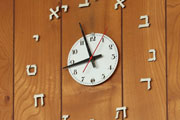 Shabbat Times - Shabbat Chol Hamoed
Friday night - Candle Lighting at 7.34pm
Shabbat ends - 8.40pm
Next Friday night: Candle Lighting before 7.40pm
Dear Friends
Pesach is nearly upon us. And this Pesach night will be different from all the other Pesach nights. Unfortunately we will not have the pleasure of sitting together - whole families - children, parents and grandparents. The commandment of "telling your children" about the experience of the Seder is there because it is a moment of transmission. Every year, we tell the story of the salvation of our people from slavery, and this story imprints a sense of faith, not only in our children, but in us as well. This year we just can't do it.
How then can we celebrate Pesach in the way that we should? What message should we take from a Seder which has some of the most important elements taken away from it?
Perhaps the Exodus story is exactly what we need, for our own reassurance and inspiration. If G-d took the Jewish people out of Egypt, He has the capacity to remove the danger of this virus from the world. If G-d can cause miracles and change nature for his people, surely He can do the same for the troubles which are facing us at this very moment. If we left from darkness to light, from slavery to freedom in Egyptian times, we can do so again. It can happen again.
The lesson of the Exodus is that while we were mostly passive in the Exodus story and G-d took centre stage as it were, there were things that we needed to do. We needed to have EMUNAH - basic faith in the Almighty. The last plague - the death of the first-born - saw G-d himself passing over the Jewish homes and striking the houses of the Egyptians. While we know that not one Jewish first-born was harmed during this final plague, during the moment when G-d passed over the houses of the Jews must have been moments of supreme stress. Would G-d save us and our children? Would He have mercy over us when they could hear the cries coming out of Egypt, cries of woe from mothers who would not see their children again? The only way that the Jews were able to deal with such pressure would be through their faith that G-d would take care of them.
The story of Exodus imprints that faith in us. G-d looks after his children, and removes us from danger. We will see the threat of this virus pass, because the Master of the World will take care of us. Even during the saddest of times, the Almighty is at our right hand side. The trick is to be able to feel his presence, supporting us, and ensuring that we come to no harm. The greater we feel that presence, the more blessed we are. The only way to feel that presence is through our faith.
I wish you all a Happy and Kosher Pesach, with safety. May we all merit to leave our confinement very shortly into light and redemption, Amen
Rabbi Steven, Siobhan, Maya and Talia Dansky
We wish Mazal Tov to the following members:
Frank & Bruria Eisen on their Golden Wedding Anniversary and
Andrea & Harold Rosenberg on their 35th Wedding Anniversary.
Gerald Braham, Kitty Dessau. David Fineberg, Lionel Kranat and
Maureen Tassie on their respective birthdays.
Befrienders needed
Prior to the pandemic, we were being asked by some of our older members if they could have someone visit them on a regular basis and become a befriender. This is more important than ever with members having to self isolate because of the coronavirus pandemic.
It is very important that we, as human beings, have contact with another person, whether to benefit their mental health, create a friendship or just having someone to talk to. Could you be this special person bringing some sunshine and positivity into the life of one of our older/vulnerable, valued and interesting member?
At the moment all that would be required is to make a regular phone call. However, once the pandemic is over it would be great if the befriender could visit instead of ringing but that decision would be made by the befriender and the person being called.
Please consider becoming a much needed befriender during such a difficult time. Lorraine can be contacted on: lsilverwelfare@cranbrooksynagogue.or.uk or call the office 020 8629 2783.
Pesach Times
Wednesday 8th April (Fast of the Firstborn)
Eat chometz by - 10.49 am
Burn chometz by - 11.56 am
Candles to be lit at 7.31pm and 1st Seder to begin after 20.37 pm

Thursday 9th April / Pesach day 1 (Yom Tov)
Candles to be lit and 2nd Seder to begin after 8.36 pm
You can only start preparation from 8.36 pm

Friday 10th April / Pesach day 2 (Yom Tov) Bank Holiday
Yom Tov finishes and Shabbat Begins - Candles to be lit at 7.34 pm

Shabbat 11th April / Shabbat Chol Hamoed
Shabbat Ends - 8.40 pm
Tuesday 14th April / Pesach day 6 (Chol Hamoed 4)
Yom Tov and candle lighting - 7.41 pm

Wednesday 15th April / Pesach day 7 (Yom Tov)
Candles must be lit before 8.17 pm
Thursday 16th April / Pesach day 8 (Yom Tov)
Yom Tov finishes - 8.49 pm
Please allow an hour after Yom Tov before eating Chometz
Condolences to:
Bernice Bass on the loss of her husband, Irving Bass.
David Bass and Rosalyn Page on the loss of their father, Irving Bass.
Jeffrey Block and Jenny Wernick on the loss of their mother, Eva Block.
Harvey Cohen on the loss of his father, Michael Cohen.
Jonathan and Philip Friend on the loss of their mother, Daphne Friend.
David Gale and Roberta Tobe on the loss of their mother, Lilian Gale.
Brian Garson on the loss of his father, Montague Garson.
Russell and Barbara Shaw on the loss of their great Aunt, Jean Goddard.
Jackie Jaffa on the loss of her mother, Peggy Gordon.
David Gould on the loss of his mother, Zara Gould
David Grant on the loss of his mother, Betty Grant.
Barry Grant and Jacqueline Goldstone on the loss of their mother, Betty Grant.
Norma Hart on the loss of her sister, Maureen Hurst.
Roy Hamilton on the loss of his mother, Leah Hamilton.
Sidney Isaacs on the loss of his sister, Leah Hamilton.
Howard Levy and Sharon Davis on the loss of their mother, Phyllis Levy.
Wendy Mallach on the loss of her husband, Howard Mallach.
Denise, Joy and Michael Mallach on the loss of their father, Howard Mallach.
Karen Francis on the loss of her brother, Howard Mallach.
Karen Brent on the loss of her sister, Linda Marks.
John Nerden and Natalie Curtiss on the loss of their mother, Rachel Nerden.
Stephen Colman on the loss of his aunt, Kathleen Simmons.
Ruth Starr on the loss of her husband, Leslie Starr.
The family of Maurice Stanton.
If you would like to mark a birthday or Simcha, or want to commemorate a Yahrzeit, this can be done by sponsoring Cranbrook News. In the forthcoming weeks, there are many dates that are available. The cost of sponsoring Cranbrook News is £15.
Sponsorship is available for the on-line version of Cranbrook News on the following dates, April 18th and 25th; May 2nd, 23rd and 30th. To book any of these dates please call the synagogue office on: 020-8629 2780 or e-mail admin@cranbrooksynagogue.org.uk
Please click here for the application form for the 5781/2021 calendar.
Forms need to be sent into the office with payment or scanned and e-mailed to the office.
Please call the office on 020 8629 2783 to make payment for the Calendar by debit/credit card or send a cheque to the office.
No cash payments can be received at this time.
We wish Long Life to everyone who is observing a Yahrzeit this week:
Michael Alexander, Mercia Bloom, Raymond Bloom, Barbara Burns,
Sandra Carson,
Ivor Clements, Alexandra Clements, Natalie Conroy,
Cindy Delin,
Kenneth Demby,
Kay Demby, Shelley Deutsch, Sandra Franks, Gillian Geisler, Beryle Ginsberg,
Barbara Goldman, Monty Goldstein,
Marie Gordon, Zara Gould, Sylvia Green,
Ernest Green, Anne Green, Pamela Halawi, Cyril Hyman,
Rita Isaacs, Diane Kenner, Sandra Kisby, Barbara Klinger, Gloria Krist,
Rita Lebetkin, Roger Leigh,
Solomon Macatonia, Sandra Mack, Doris Margolis, Ruth Montlake, Trevor Morris,
Diana Neslen, Matthew Noble, Michelle Osborne, Jeanette Pinkus, David Pinner,
Mavis Pinner, Stephanie Plawner, Anthony Price, Colin Rappoport, Geoffrey Riesel, Sarah Sackwild, Neil Sapler, Susan Sapler, Jacquelyn Shafier, Victor Shafier,
Yvonne Shoshan,
Linda Simons,
Raymond Solomons,
Ruth Starr, Simon Stern, Irene Sumray,
Annie Wallen,
Helen Walters,
Eleanor Weinfass,
Sally Winstock and Melvyn Zussman.

Shul Office Opening Hours
As the Shul office is not open currently please call Estelle on 020 8629 2780 or Michelle on 020 8629 2783 as all the phones have all been redirected.
Rabbi Dansky is available out of hours. You can contact him directly on his mobile 07780 236697 or by calling the Shul office and selecting option 3.
Reverend Newman is also available out of hours. You can contact him directly on his mobile 07882 054321 or by calling the Shul office and selecting option 4.
If you no longer wish to receive community information from
Cranbrook United Synagogue, please unsubscribe here