Shabbat, 4th April 2020 / 10th Nisan 5780
Tzav / Shabbat HaGadol
Dear [FIRST_NAME],
Please see below our weekly e-newsletter.
On the advice of the Chief Rabbi's Office, please note that all services at the Synagogue have been cancelled until further notice.
We hope that where possible you will keep to the Government's advice regarding self isolation and avoiding non-essential gatherings.
If you are in need of anything then please ring the Synagogue Office on: 0208 629 2780 and we will try to assist you.
This week's Cranbrook News is kindly sponsored by Amanda & Rob Tragen on what would have been Toby & Abby's B'nei mitzvah. We hope everyone stays well during the current situation and we look forward to celebrating with you all once services resume.
Shabbat Shalom,
Cranbrook US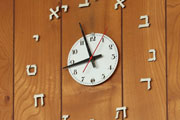 Shabbat Times - Tzav
Friday night - Candle Lighting before 7.22pm
Shabbat ends - 8.27pm
Next Friday night: Candle Lighting at 7.34pm
Dear Friends
This week we are commemorating Shabbos Hagadol which precedes Pesach. The haftarah comes from Malachi which concludes with these words: "Behold I will send to you Elijah the Prophet, on the great and awesome day. He will return the hearts of fathers back to their sons, and sons back to their fathers." Elijah ushers the coming of the Messiah, and he achieves this through the process of reconciliation between fathers and sons.
The choice of Elijah as being the one to facilitate a reunion of families seems to be very strange given Elijah's story, and his stormy relationship with the Jewish people. Elijah was a prophet who lived in the Northern Kingdom of Israel. He attempts to convert his people back to a service of G-d. Reconciliation often requires a soft touch. However, Elijah takes a dramatic and harsh approach.
The Talmud relates that Elijah was given the key that controls rain, and he withholds it from his own people for three years. He single-handedly causes widespread drought, famine and pain. This episode jars discordantly with the soft, approachable version of Elijah mentioned in Malachi.
Elijah makes attempt after attempt to convince the Jews to repent, and is briefly successful when he brings fire down from heaven and causes a sacrifice to be consumed by G-d. However that moment is short-lived and the Jews return to their service of idols.
Elijah finally gives up. There is a bounty on his head, and he goes on a pilgrimage to Mount Sinai. G-d then shows incredible miracles to Elijah - he shows him fire, a hurricane, and an avalanche, but G-d is not present within them. Afterwards, we are told that there was a soft, silent voice. G-d asks Elijah "What are you doing here?" Elijah responds that the people have not repented, try as he might. It is at this moment that G-d tells a disappointed Elijah that he needs to appoint another to stand in his place as a prophet.
There is clearly a message which Elijah was meant to receive: The only way to create a change in the Jewish people was not through fire coming down from heaven, or punishment through drought, but rather through the small interactions that take place in private, the quiet exchanges between people that create the impetus for G-d's presence to exist.
Judaism doesn't have to take place in the dramatic moments of public ceremony and pomp, and if it does, its power will not last the test of time. True change happens when fathers and sons are reconciled, when spirituality takes place in the small spaces of our lives.
This is the lesson that Elijah learns, and he learns it every single time we invite him into our houses on Seder night. He sees families united together, he sees Judaism taking place and he learns from us. The more we can teach him this lesson, the closer he will be to learning it, and then he in turn will teach us how to reconcile to one another.
This idea has huge relevance in our lives today. We don't have the capacity to gather together this week to hear the words of Malachi, reminding us of our future redemption through Elijah the prophet. We can't have the public and officious opening of the ark, taking out the Torah. But that doesn't mean that our connection is gone at all. On the contrary, it gives us the opportunity to pray in our own spaces – in the private of our homes. We can bring the almighty into our homes within the quiet exchanges of our home. May this beautiful expression of Judaism in the privacy bring us to a state of redemption, both on a private and on a public level with the coming of the Messiah, speedily in our days.
I wish you all a peaceful and more importantly, a safe Shabbos.
From Rabbi Steven, Siobhan, Maya and Talia Dansky
We wish Mazal Tov to the following members:
Sheila Benson, Jacqueline Burns, Ruth Crabbe, Marian Dennehey,
Karen Lichkin, Estelle Mendoza, Abigail Tragen on their respective birthdays.
Befrienders needed
Prior to the pandemic, we were being asked by some of our older members if they could have someone visit them on a regular basis and become a befriender. This is more important than ever with members having to self isolate because of the coronavirus pandemic.
It is very important that we, as human beings, have contact with another person, whether to benefit their mental health, create a friendship or just having someone to talk to. Could you be this special person bringing some sunshine and positivity into the life of one of our older/vulnerable, valued and interesting member?
At the moment all that would be required is to make a regular phone call. However, once the pandemic is over it would be great if the befriender could visit instead of ringing but that decision would be made by the befriender and the person being called.
Please consider becoming a much needed befriender during such a difficult time. Lorraine can be contacted on: lsilverwelfare@cranbrooksynagogue.or.uk or call the office 020 8629 2783.
Pesach Times
Wednesday 8th April (Fast of the Firstborn)
Eat chometz by - 10.49 am
Burn chometz by - 11.56 am
Candles to be lit at 7.31pm and 1st Seder to begin after 20.37 pm

Thursday 9th April / Pesach day 1 (Yom Tov)
Candles to be lit and 2nd Seder to begin after 8.36 pm
You can only start preparation from 8.36 pm

Friday 10th April / Pesach day 2 (Yom Tov) Bank Holiday
Yom Tov finishes and Shabbat Begins - Candles to be lit at 7.34 pm

Shabbat 11th April / Shabbat Chol Hamoed
Shabbat Ends - 8.40 pm
Tuesday 14th April / Pesach day 6 (Chol Hamoed 4)
Yom Tov and candle lighting - 7.41 pm

Wednesday 15th April / Pesach day 7 (Yom Tov)
Candles must be lit before 8.17 pm
Thursday 16th April / Pesach day 8 (Yom Tov)
Yom Tov finishes - 8.49 pm
Please allow an hour after Yom Tov before eating Chometz
Condolences to:
Sandra Waldman on loss of her mother Edna Schneider.
Stephen Bulkan and Deanna Oates on the loss of their father David Bulkan.
Franklin Bulkan on the loss of his brother David Bulkan.
Rita Shaw on the loss of her daughter Michele Martin in America.
To sell your Chametz download the form for 2020 or use the form attached to this week's e-mail. You will need to print it off and then scan or post it once completed.
If you would like to mark a birthday or Simcha, or want to commemorate a Yahrzeit, this can be done by sponsoring Cranbrook News. In the forthcoming weeks, there are many dates that are available. The cost of sponsoring Cranbrook News is £15.
Sponsorship is available for the printed/on-line version of Cranbrook News on the following dates, April 11th, 18th and 25th; May 2nd, 23rd and 30th. To book any of these dates please call the synagogue office on: 020-8629 2783 or e-mail admin@cranbrooksynagogue.org.uk
Please click here for the application form for the 5781/2021 calendar.
Forms need to be sent into the office with payment or scanned and e-mailed to the office.
Please call the office on 020 8629 2783 to make payment for the Calendar by debit/credit card or send a cheque to the office.
No cash payments can be received at this time.
We wish Long Life to everyone who is observing a Yahrzeit this week:
Barbara Brodie, Ivor Clements, Leila Conn, Pamela Davies, David Decker,
Simon Devan, Derek Ettinger, Carole Finkletaub,
Esther Frankel, Jean Goddard, Barrie Gold, Lionel Goldberg,
Josephine Goldberg, Ruth Goldberg,
Barbara Goldman, Paul Goldman, Stuart Goldman, Joseph Gordon, Zane Grant, Joanne Green, Marc Green, Jeffrey Haimov, Shirley Herst, Dalia Ilan,
Suzanne Leigh, Patricia Lewis, Annette Luder, Anne Marsh, Elsie Moss,
Rachel Nerden, Maurice Nieberg, Ivor Perl, David Rein, Howard Robbins,
Emanuel Robinson, Hilda Rogoff, Joan Rose, Patricia Russell, Levy Sampson, Jean Sanett, June Segal,
Alice Senk, Stephen Shelton, Kevin Simmons,
Ruth Starr, Hannah Stern, Stanley Stevens, Harvey Tibber, Paul Tobe, Vivien Vant, Ivor Wagner and Sally Winstock.

The 200 Club
The 200 Club aims to raise funds for building and maintaining the Shul, but has extended its function to help with various events that need organising for the Shul.

For £5 a month (for at least twelve months) you are entered into a monthly draw for one prize of £250, and a second prize of £100. There is no limit to the number of times you can win.
To join please fill out the application form by clicking here.

Shul Office Opening Hours
As the Shul office is not open currently please call Estelle on 020 8629 2780 or Michelle on 020 8629 2783 as all the phones have all been redirected.
Rabbi Dansky is available out of hours. You can contact him directly on his mobile 07780 236697 or by calling the Shul office and selecting option 3.
Reverend Newman is also available out of hours. You can contact him directly on his mobile 07882 054321 or by calling the Shul office and selecting option 4.
If you no longer wish to receive community information from
Cranbrook United Synagogue, please unsubscribe here